inle lake
02.09.2006
Inle Lake is a large freshwater lake that's 22 kms long and 11 kms wide and it's 875 m above sea level. It's abundant in freshwater fish and you'll be able to spot a fisherman rowing a canoe using his leg while his hands are occupied with catching fish in the traditional Intha method.
i spent the night after trekking with the two girls, we yakked loads about trekking over dinner. i must say that we had bonded very well over the three days together. on reaching our guesthouse (we shared a triple bed), J went to the market and bought fruits.
"nilaaaa, see what i got here. BANANAS!!! for you! now you can eat all," she said, laughing heartily as she plucked each one and dumped them into a pile on my bed. how thoughtful, she knew i was craving for bananas during the trek.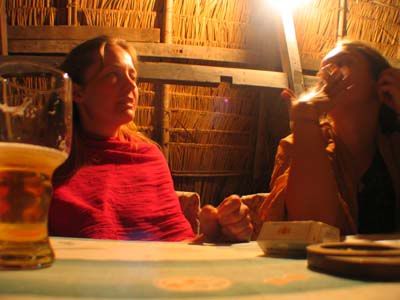 the following day, they left for yangon. and i was alone again. and funny things happened, a blackout while shampooing my hair at 4am, and the dog panic attack.
let's talk about the dog attack. serve me right for wanting to drink tea after my canoe trip at one teashop at the corner of the river, far end of the village. they had taken so long to make the tea, by the time i was done, it was pitch dark. i thought it should be ok, and i realise that every single shop was close. the only places open were those few sheds selling tea and beer, and everyone walking around were men - drunk and sober. there was a drunkard singing loudly on the lampless street. i quickly walked past him, with my face turned away from him. as i turned into a corner of my guesthouse and walked about 5 steps, a huge pariah dog appeared right in front of my face. i shone my torchlight at him and mumbled some prayers. it worked! the dog started walking away and i kept shining my torch at its face. two local men (not drunks) saw me, and asked me in burmese. i said "DOG". and they said "Daw daw?" i said "Doggg!" and they went "Dork" and then they laughed, amused. they were kind enough to walk the next ten steps with me. i ran helter skelter back to the guesthouse, stepped on my sandal straps and fell face down on the ground with a thud.
the second incident was even more stupid. you see, my cheap watch was spoilt on the third day. and without alarm clock, i was worried about waking up late. i slept very little since. i would wake up every few hours, get out of the room and walk to the reception to check out the time on the wall clock. so, one of the days, i had told the boatman i would meet him at 6am. i jolted out of slumber at 4am and didn't want to go to bed anymore. and decided to take a shower. the light switch was an old one and you had to press really hard to get it to work. so, while lathering my body with soap and shampooing my hair, the switch went kaputt. i couldn't see a thing because my eyes were filled with soap suds. i started groping around in the dark for the switch. i couldn't find it and started yelling. because it was in the wee hours of the morning, everyone's asleep. except the dog, which started scratching away on the bathroom door and yelping. urgh. so, i stopped yelling and continued groping around. having phobia of the dark didn't help as i started imagining ghosts leaping at me. after much effort, i finally found the switch. felt a little sizzle (because i touched it with wet fingers), luckily i wasn't electrocuted. the lights came back on. phew.
anyway, at inle, i found Tou, a boatman who could speak good english (he's a university graduate) while buying some chapatti at aroma indian food. and i was asking him how i could get to the jumping cats monastery cheaply, cos i felt that my guesthouse owner charged too much (please read the section on homepage about this "crazy" guesthouse owner. be wary of her!). so, he told me he would take me to see places i wanted to see (minus the touristy places, minus the souvenir shops, minus whatever touristy crap there was there). but because it was already 3pm, we could only go to the floating garden and take a slow canoe around the little canals to see the villagers until sunset. anyway, the view at inle lake at sunset was beautiful! i wanted to cry witnessing just how wonderful nature is. imagine yourself sitting in the middle of a huge body of calm waters. you look around you, you see faint outlines of rugged mountains. behind the mountains was this silky crimson sheet, which is the colour of the sky. and the only sign of life is just your own breathing. GOD, it was fantastic to feel soooooooooooo aloneeeeeeeeeeee (ok i know the botaman was behind me, nevermind)!!!
when we went around on the canoe, i asked him how many tourists from my country visit myanmar. he said a lot, but are old people on package tours. he said "those are tourists, they come here snap a few shots, eat a lot, stay at nice places and say they have been to myanmar. you are different, i think. you're here not only to see myanmar, but to feel myanmar. am i right to say this?". and i just nodded and said "yes indeed! and therefore could you please show me how to feel myanmar at inle lake?" and he said he said he certainly would.
how many canoes do each family own? at least 3 - one for the husband (for fishing), one for the wife (for her to go marketing) and one for the kids (for school). interesting, they're richer than us - car-driving people! :D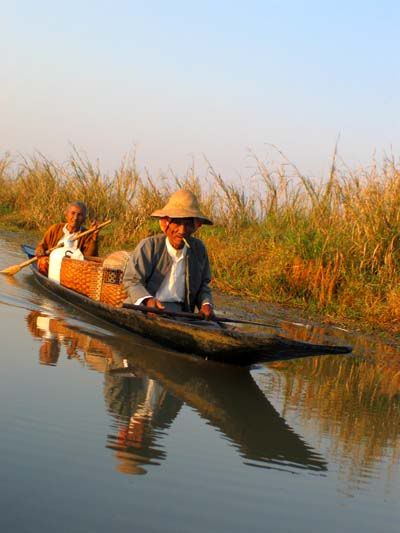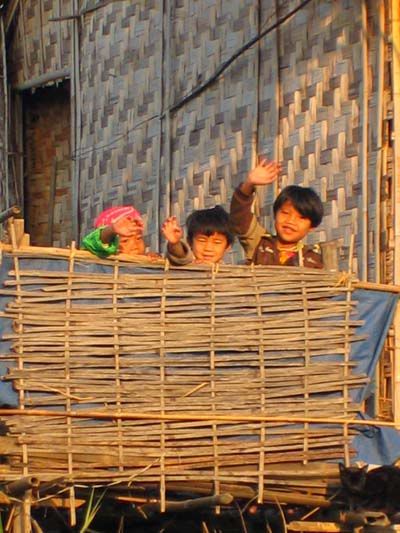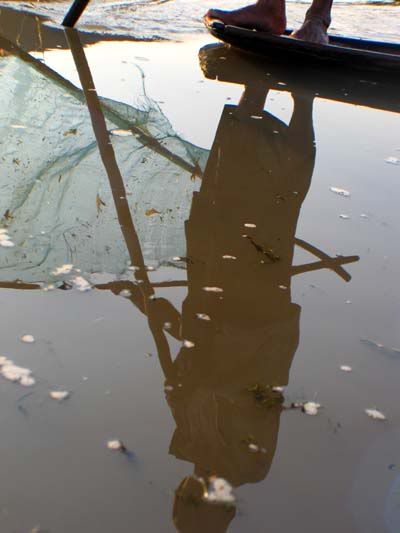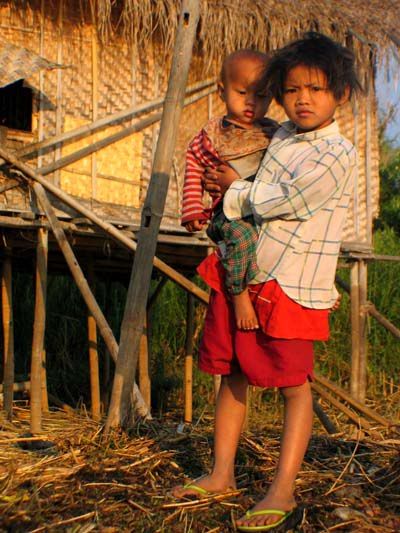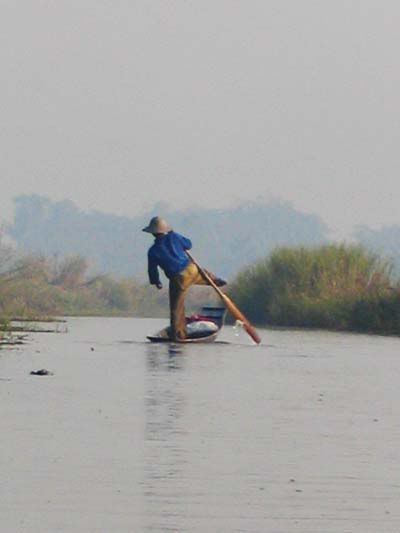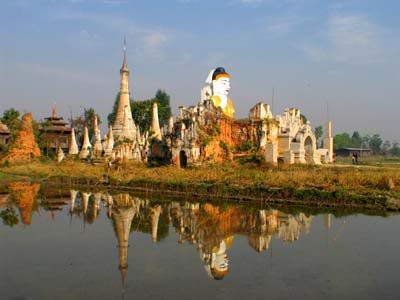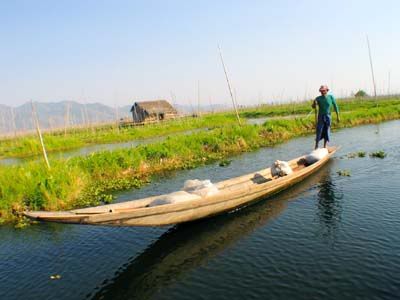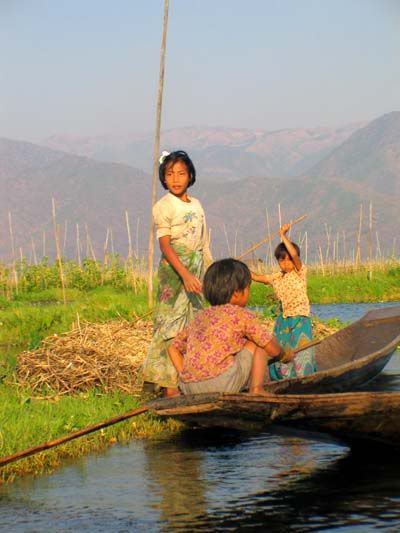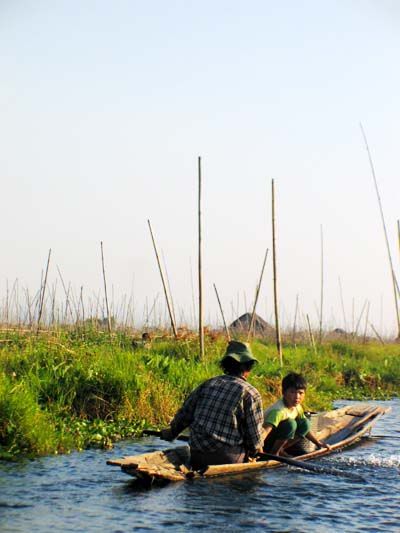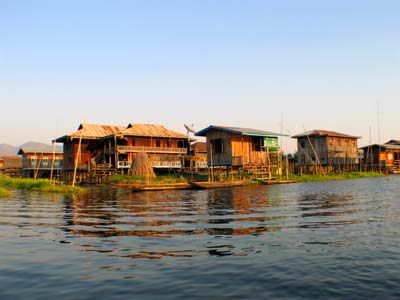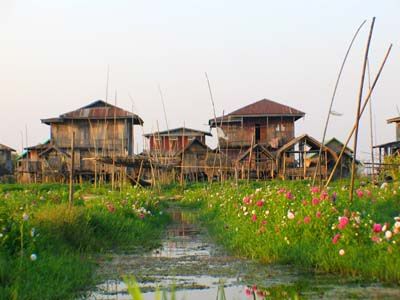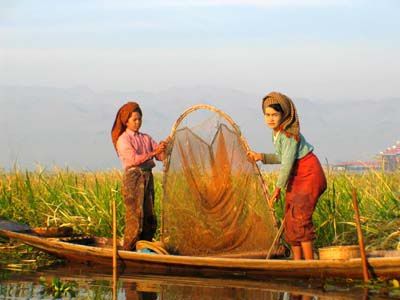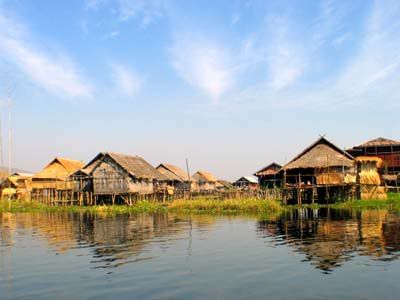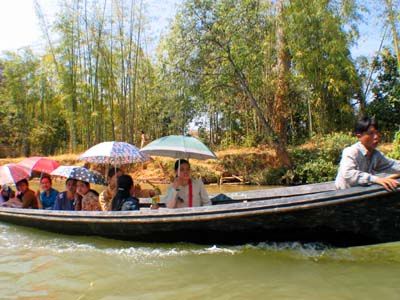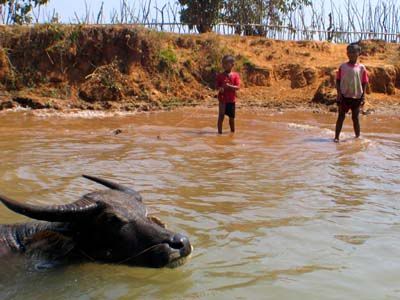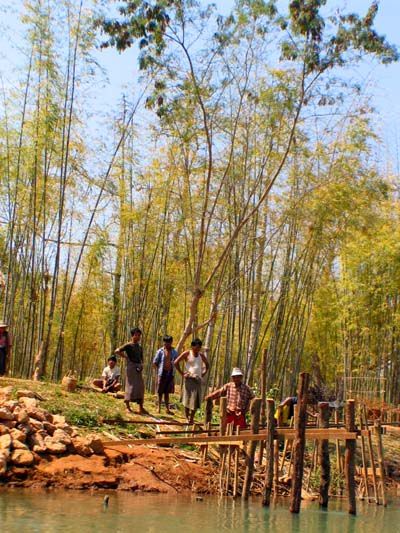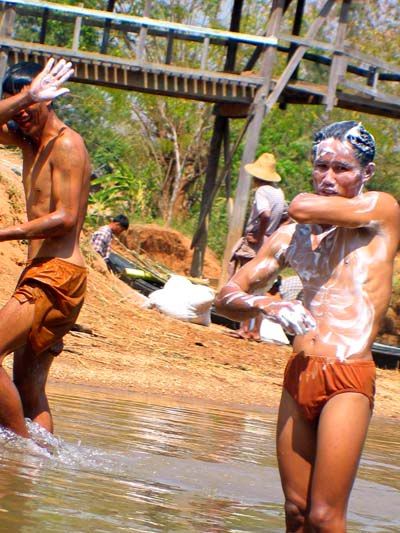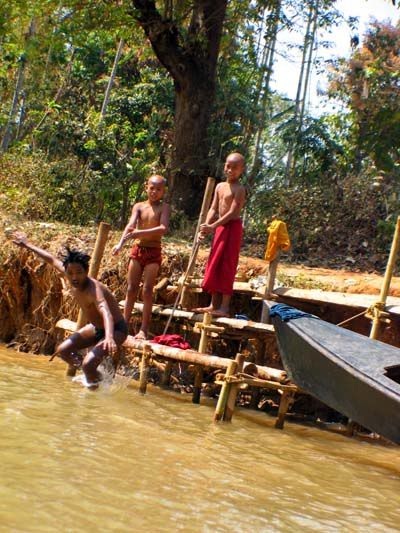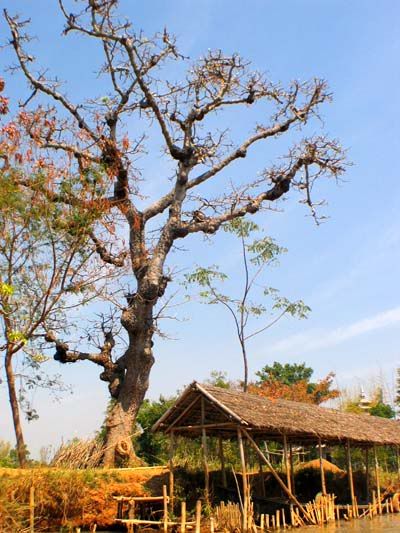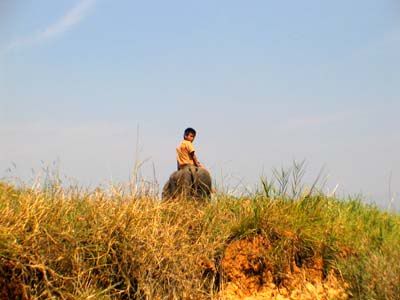 to market, to market
shan market scenes. i took a shot of one games stall and was promptly asked to scram. i was told by Tou that setting up a games stall (gambling stalls) is illegal. if caught, the organisers would have to pay a heavy fine. ah so.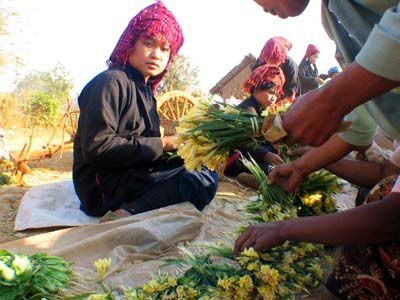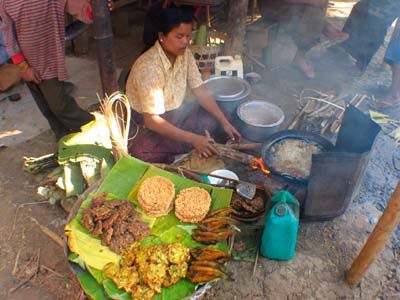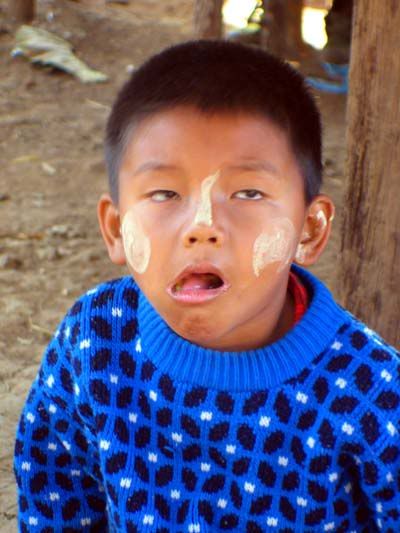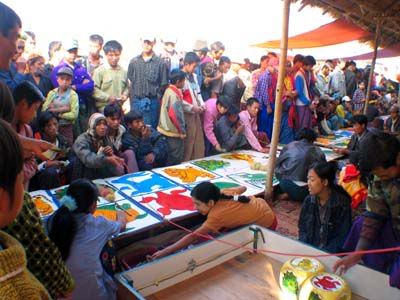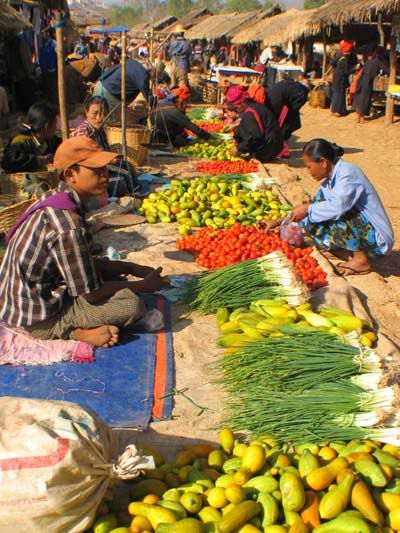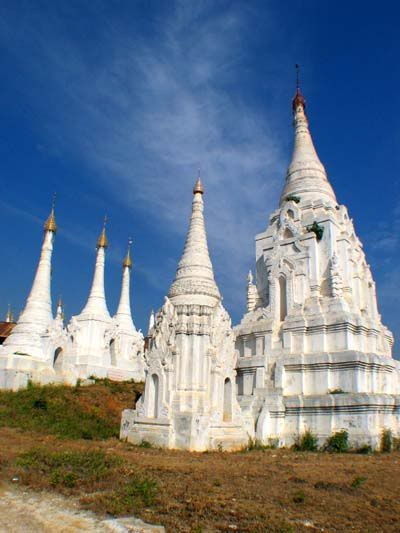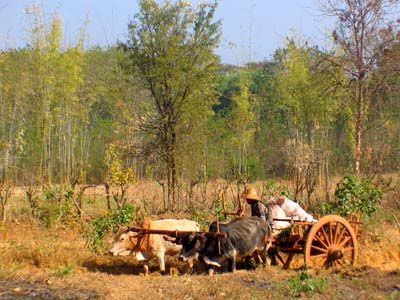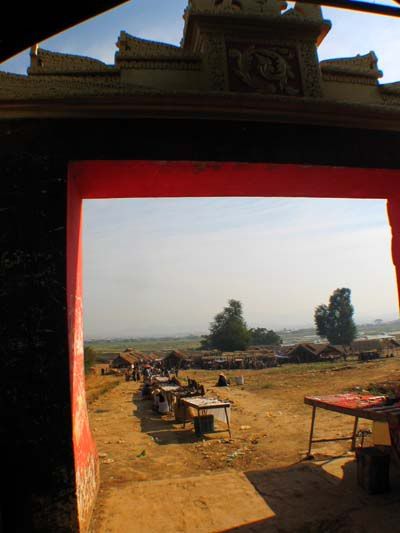 jumping cat monastery & fake monks
boatloads of tourists visit the jumping cat monastery at inle lake every day. here's something i learnt on the trip - locals are very ashamed of the monastery and the monks there. the folks there give buddhism a bad name, said a local i spoke to.
the abbot sleeps all day, the monks spend time teaching cats to jump through hoops when they're supposed to be filling their time studying/learning/praying. and they earn money through tourist dollars. and they feed themselves with good food. boatmen say they always send tourists to the monastery, but they actually abhor doing that.
"i don't know why the guidebooks recommend tourists to go to the monastery. it's an insult to buddhism," lamented one boatman.
this led to the discussion about fake monks. some monks i saw on the streets made me wonder if they're "real" monks. one monk i saw was eating, smoking and chewing betel (i had been told that monks fast after 12pm). another monk filched a first-class seat on the train. and another monk was listening to music, and wearing fashion accessories. it seems like some lazy folks become monks so they don't have to work to feed themselves. and the best thing, they are revered and respected. i felt "bad" thinking like this, but anyhow locals i spoke to confirmed my suspicion.
"yes, nila. most monks are real. but there are fake ones. it's easy to tell. don't feel bad thinking ill of these monks. they're quite a shame to us burmese as well," said a local.
"that abbot at the monastery... he's a lazy abbot. no good," he added.
i visited the monastery, too. and indeed, when i was there, i saw the abbot sleeping. and some devotees were worshipping him while he's in the sleeping state.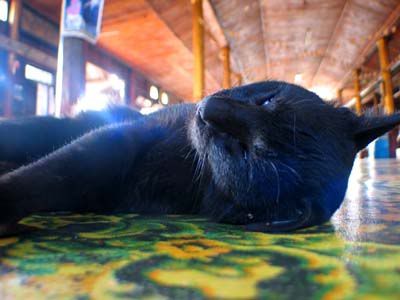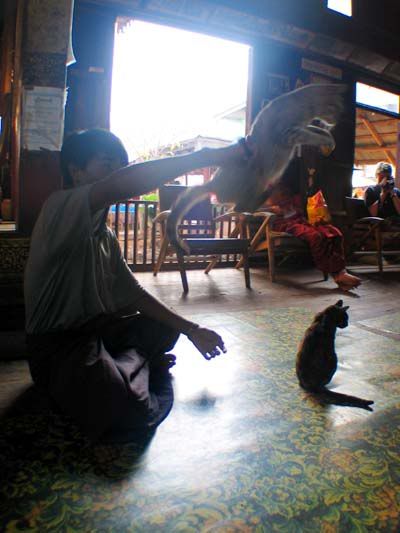 Posted by jalanjalan 19:46 Archived in Myanmar