kalaw
02.09.2006
Kalaw is a beautiful hill station set in the midst of rolling hills and pine forests. In the past, was a summer resort for the European esparto and rich local people. 71 km west of Taunggyi, Kalaw is 660 km from Yangon.
Kalaw still boasts colonial-era cottages and villa. Its environs are great for trekking, and at some distance from the town come upon the Palaung villages where the name rake ethnic people still live in long house. They are Buddhists, and wear beautifully woven costumes of deep reds, greens and black. There are also reversal enchanting pagodas and temples. Kalaw is very pleasant in itself but the main reason to stop here is to do a trek to nearby tribes villages.
anyhow, i reached here in kalaw at 3am in the morning by bus. i was the only foreigner on the bus. it was very dark and extremely cold. the bus stalled in the mountains because it got stuck into some drain, and later got stuck again because it ran out of fuel. it's amusing that everyone got out of the bus and helped to push the bus forward.
i was the only person to get down from the bus, which was heading to taungyi - another town. but luckily, i bumped into a man who was suffering from insomnia. he was sitting around and spotted me, looking lost. he said "may i help you?" and i said yes i'd like to go to one particular guesthouse. actually there's another guesthouse right where i got down, but i didn't want to pay a full night charge. so i roamed around.
it turned out that the guesthouse owner is his good friend. yay. so he took me there, and checked into my clean room. US5 per night.i tried to sleep, but got a nightmare. i dreamt two chemistry teachers died and their blind ghosts (with holes for the eyeballs) were trying to cheat me into joining their ghost group). i woke up, in cold sweat. i slept again cos its just 5am. the next time i woke up it's already 10am. i walked around and chatted with the locals. i painted the women's nails, presented some with lipstick. they're extremely friendly people.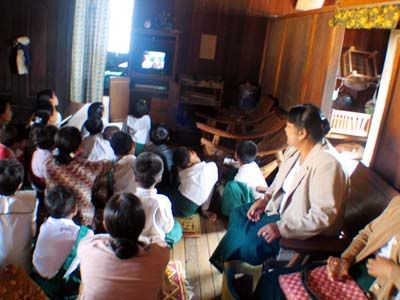 students and teachers gathered at the principal's home to watch TV together, before heading to school. i poked my head through the door and the teachers invited me in. how lovely.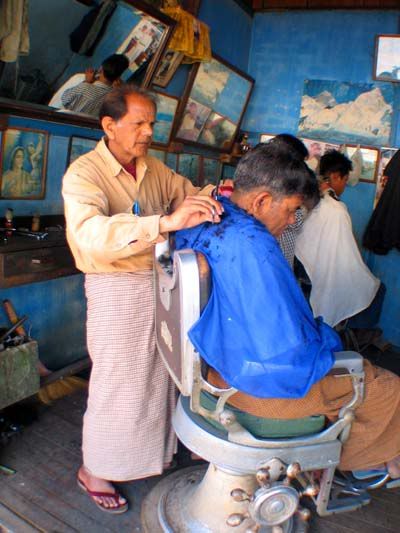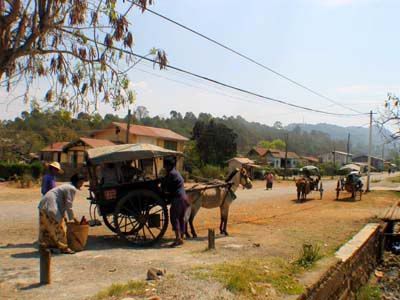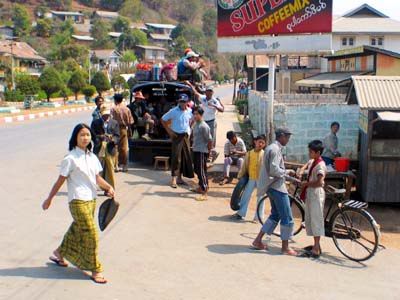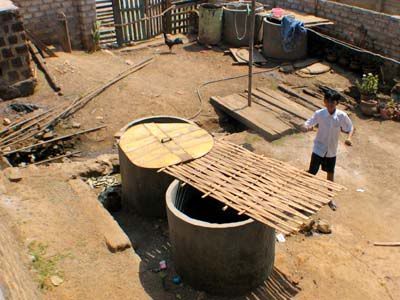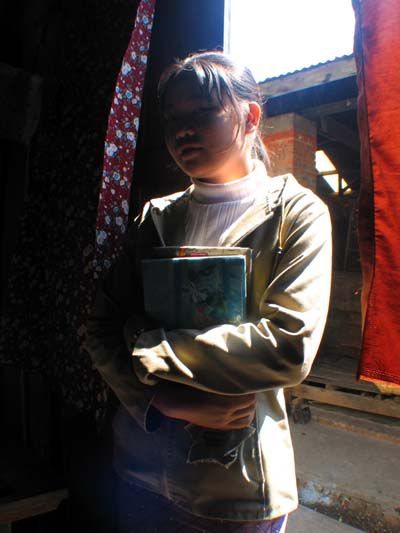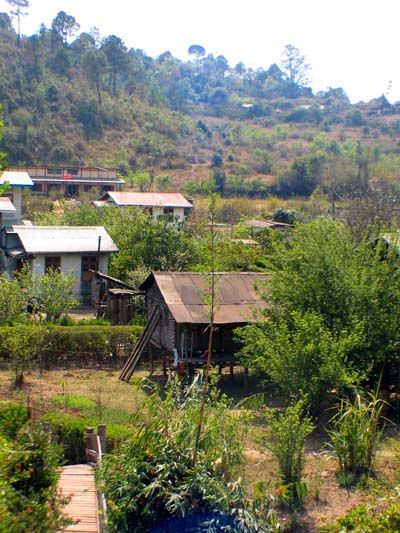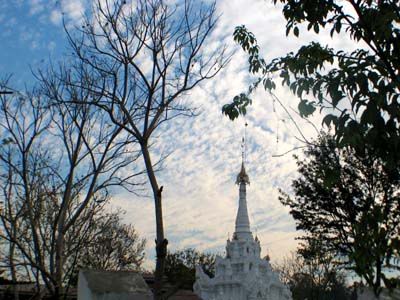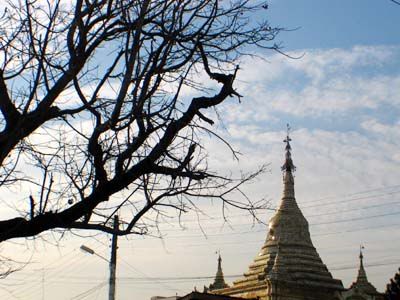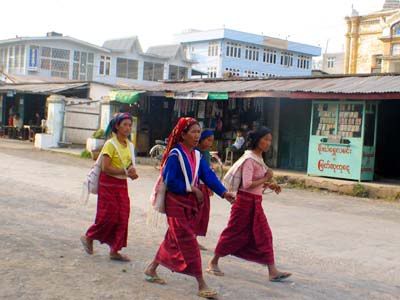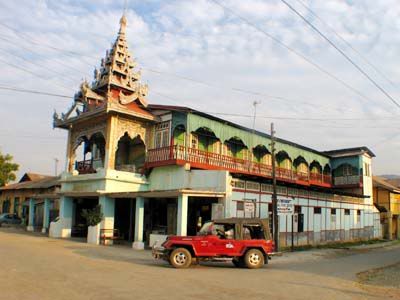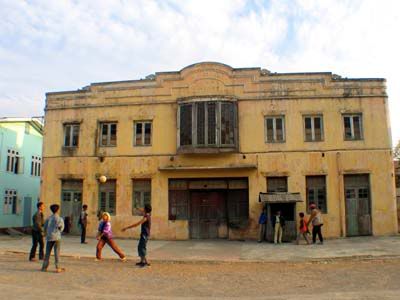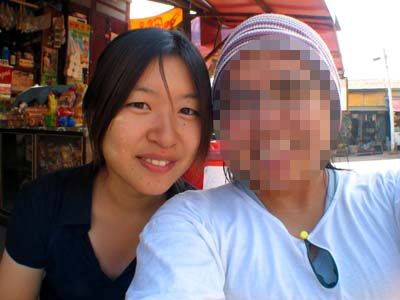 i met T, a solo traveller from japan. T did the "clockwise" route, while i did the "anticlockwise" route. i met the same travellers again and again as we were all having almost similar itineraries. and there's a lot of knowledge to be gained from meeting different people.
the Thiens invited me to dinner
after walking around chatting with locals, i decided to veer off the main road to see how the homes in inner kalaw looked like. while walking, two people waved and called out to me from their hut's verandah, beckoning me to stop by their place. i did, and they served me tea.
the two neighbours - one burmese from the danu tribe and the other a burmese muslim - and i chitchatted for about two hours. later, they asked me to come back again in the evening for dinner. halal food, we're muslims, they assured me. which i gladly accepted.
i met the whole family that evening. it was dark and the homes looked similar - even with a torchlight. after knocking a few wrong doors, i finally found the thien's family home. the whole family - mother, father, four kids, two neighbours - was waiting for me outside at the verandah, worried about me getting lost. when they saw me, their faces brightened and welcomed me into their humble abode.
they gathered around me at their living room and served me chapatti and dhal curry in candlelight because there's no electricity supply. theyre such a nice FAMILY! REALLLLYYY, i cant believe my luck so far, bumping into extremely hospitable people. they are not well-off, but they treated me so kindly. they even switched on their tv to let me watch hindi show. and auntie roshan packed chapattis for my trekking the following day. she liked me so much she gave me her old longyi, which she had worn when she was a teenager. so sweet right? and amu gave me a hat she knitted herself. such nice presents.
i spoke a lot to them, about our families. anuar later sent me home on his motorbike.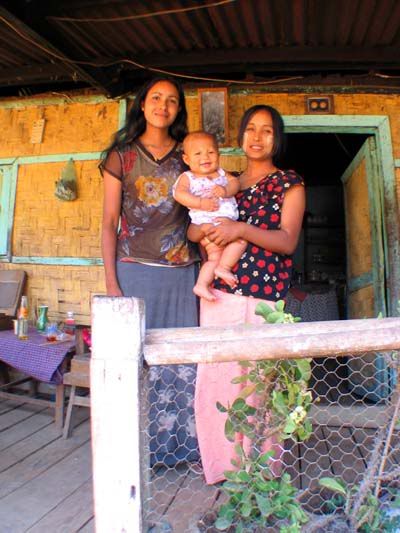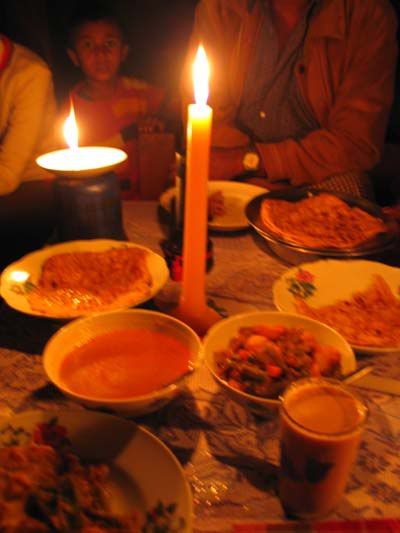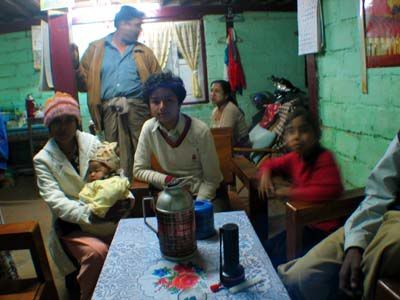 trekking day 1
i embarked on my 40km three-day trek, slow and and sluggish. the old engine needed oiling. it was a pleasant trek, passing pine woods, vast lands of cropland as far as the eyes could see - cabbages, tomatoes, herbs, wheat. the gentle breeze cooled our bodies as we perspired endlessly under the hot fiery sun.
what made the trek extra special was the company. i loved J and L. travellers from France, they were a joy to be with. sporty, considerate, well-mannered. it's their first time travelling in Asia, and yet they displayed acute sensitivity. curious about the way of life in Asia, they probed with much care. yet they were jovial and joked abundantly.
Han, the trek guide, and I hit it off very well. he could speak fairly good English, but had problems explaining himself well, especially to the European girls. they were like chickens and ducks talking, and i played the middleman most times.
a typical conversation:
"over here, the dams helped in irrigation," said Han.
"what are dams? irrigation?" asked J.
"dams you know, dams. how to say..." said Han.
"sorry my English is very poor but i don't know what's a dam," said J.
i would put in my 2 cents' worth.
"dams are like walls in the river, you know. you erect these walls in different sections of the river to block water flow. then, you channel the water through pipes to the farms so the villagers could use it to water the crops. that process is called irrigation."
"ah so!" said J. Han looked appreciative. i suppose it was quite fun playing the middleman. i find it a joy to share what i know with people like J and L, who are so curious about the Asian way of doing things.
there were some sensitive topics that Han felt embarrassed discussing - like why J should hang her underwear/socks below the men's clothes to dry on the line (while we were at the monastery), and why it's impolite to lie on the bench (at the monastery). it's quite funny to see Han twitching and fidgeting, trying to find the most polite way to explain.
i saved him the trouble. basically, it's a cultural insult when women hang things above men's.
"J, in asia, men are considered the head of the family and should be respected. westerners may not be agreeable but i'd like to point out that it's not like women are subjugated. it's a consultative relationship. women do advise the men on how things should be done/run in the household. and there are cases of henpecked men. anyhow, in some traditional asian communities, men are considered leaders and thus should be respected like that. and since we are at the monastery, monks are above us. so, no way we can hang our panties above the monk's robes! but well, if you're in modern asian society, like say singapore, you can hang your panties anywhere and noone is bothered," i said.
Han slapped me on the back. "Excellent explanation! Thank You, Nila!!!" he said. J said: ah, i see i see that is good!"
i also tried to learn more about westerners and their habits. i noticed J and L were quick to praise and compliment. so i asked them.
"L, is it a westerner's habit to say "Good" and "Wonderful" to everything even if something isn't good because you're afraid to offend? like the massage, you gave the thumbs-up, but after i tried it, it's <em>sehr schlecht</em>!"
after thinking afew minutes, L said: "hmmmmmm, yes you are right to say that! i suppose we don't want to embarrass the hosts."
"haha, i knew it but it's funny," i said. "in my country, if we praise too much, we'll be labelled patronising. and sometimes, it's good to criticise if things aren't good so things can improve. anyway, just like you to know that you can be honest and straightforward with me. do not worry about offending me cos i'm very open like that. so, if you find something bad about me that you want to point out, don't be afraid to let me know, ok. i want to have fun, we'll have fun!"
and great fun we had. we had a wonderful time because everyone's so honest with each other. i love the girls.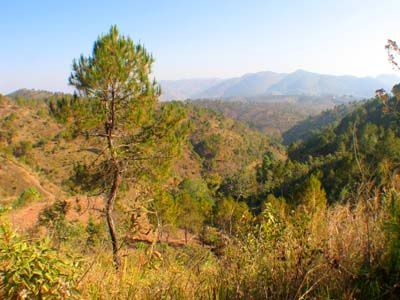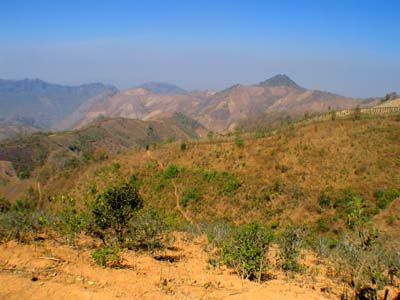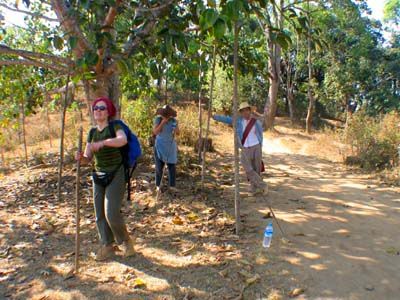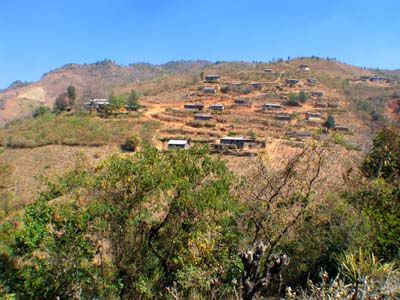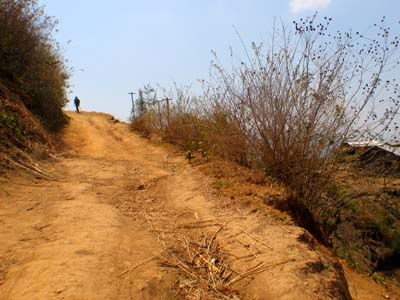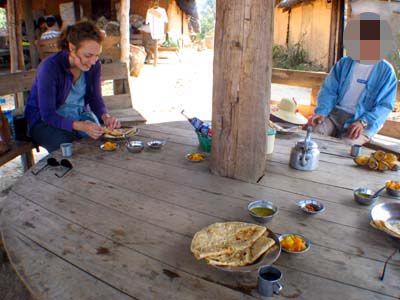 we had chapatti - a type of Indian flatbread baked in charcoal stove, for lunch. the scenery from top of one mountain range was breathtaking, and the weather was cool.
we also had to walk along the railway track, and we met monks and students walking home from school. they greeted us and made small talk. they were curious to know about us, or simply wanted to practise their English and French. everyday, they walk 2 hours along this track to get to school.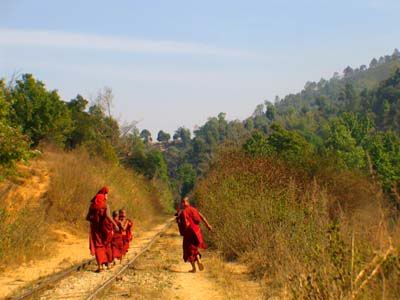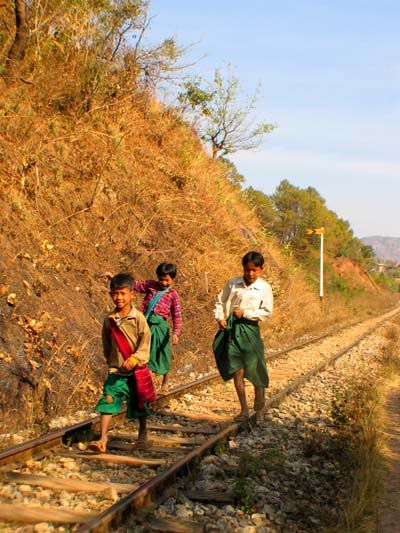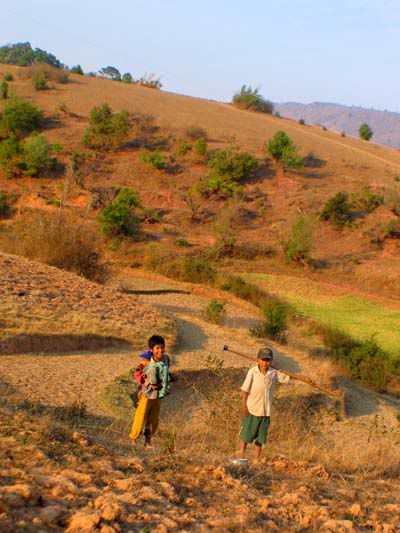 we finally reached our first stop at 5pm. we stayed with a family comprising of 10 sisters and 1 brother. they were very friendly hosts. the sisters fawned over us, giving us back rubs and serving us tea. not for money. we didn't have to give them any money. like many hospitable burmese, they're just happy to have visitors staying in their homes.
there were two visiting men there. Han told me that they were "muchin" (moo-cheen), or suitors for two of the sisters. in Burma, men who fancy their women would visit their homes nightly to get to know the girls better. such official meetings put the parents at ease. after a year or so, the couple could get married. Han said later that during the three-day trek, there were local men expressing interest to be our "muchin". this stressed him out greatly. he said "this is my first time leading three girls and all three of you are very beautiful. everywhere we go, there's some man who would want to "muchin"". ah so. haha, that's quite funny to hear.
anyway, the young sisters were jumping and clamouring all over us, hugging us and wanting to play. they could speak no word of English but from their expressions, we knew they were happy to have us around. they giggled when we did something "foreign" and "funny", like stretching exercises. they would follow all the steps.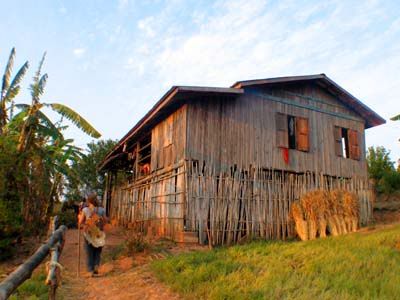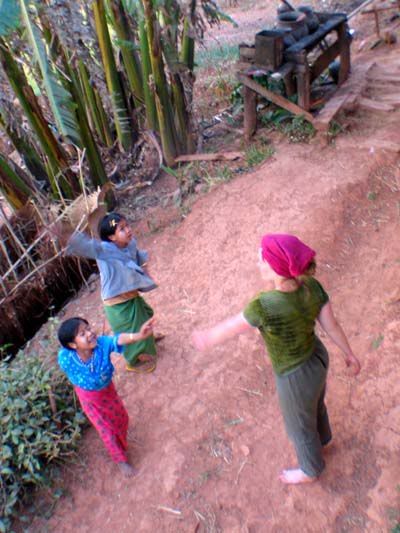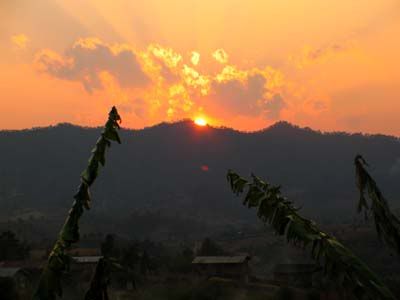 we could view a beautiful sunset from the verandah and there's no electricity there. we had a candlelight dinner. how romantic. haha.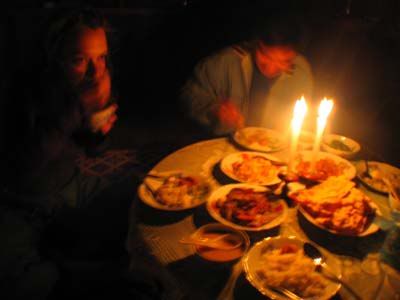 trekking day 2
i tossed and turned in bed the whole night. i was freezing so much that dew formed on my jacket, which i had zipped up right the way to the top.
"Cock a cockkkk kerk!" the old rooster crowed. i looked at the watch, only 4am. stupid cock. he was unstoppable. i slipped in and out of consciousness.
at 6am, i was gently woken up by Han. "nila, wake up already. breakfast is waiting, and we need to walk early," Han said. i was freezing as i hobbled out of the house to wash up. the air in the village was cool and fresh, and i filled my lungs with the bounty. the dull ache on my left calf remained. bah, it's going to be a lot worse today, Han had warned.
"yesterday, it's just up and down," he said. "today, we'll have to do a bit of hiking. just one mountain to climb. since L's feet aren't good, we'll start out an hour earlier. we'll take about 8 hours or so to the next stop, the monastery."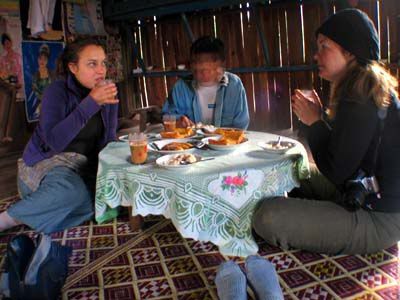 breakfast of bananas and egg-coated grilled bread

and we walked...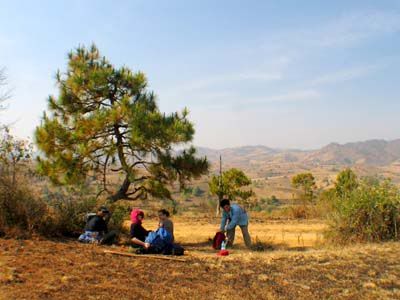 and rested... walked and rested...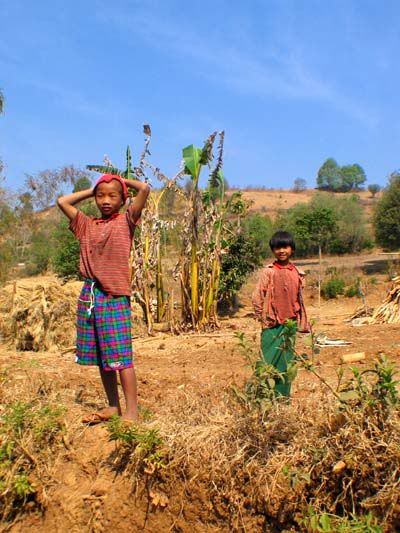 and we passed more villages with curious residents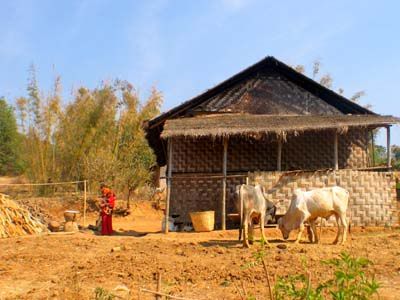 and their huts, buffaloes, cows, cattles...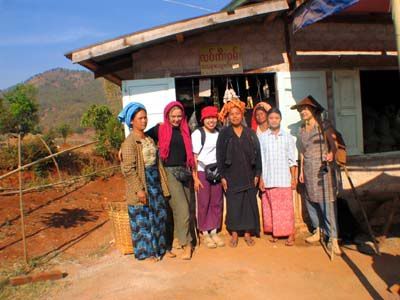 and snapped shots with them
Han asked if we wanted to see the Padaung tribe, known for their long necks adorned with golden rings. J, L and I refused. we read somewhere that the women from this tribe have been exploited by the tourism industry. many are imprisoned in their villages and made to wear long necks for show to tourists. tourists are charged $3 per photo snapped with the Padaung giraffe women. so, no go. we hate to be irresponsible tourists. we scolded Han for even suggesting anything like that.
anyway, i was feeling tired. but Han pushed me on, holding my hand till we reached our lunchstop at noon.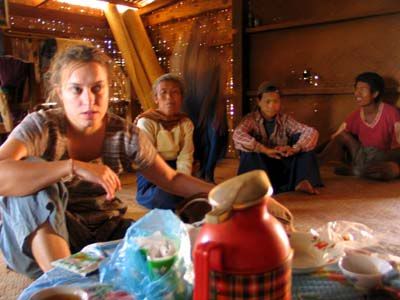 L's blistered feet were not doing well, and every step was suffering. poor girl. we decided over lunch that she wouldn't be able to continue with the walk. an oxen cart would be used to get her to the next stop. it's a slow and embarrassing ride for her, she said later. for she felt like a spoilt damsel.
the oxen cart driver went "whoooosh, whoooooshhhh", or "ooooh, ohhhhhh" to make the stubborn oxen walk. all the way and i couldn't help laughing. even from afar, we could hear him going like that. different instruction if the animals were horses. it would be "orhhhhh, orhhhhh" or "dawwwwww, dawwwww, minnnnnnnnhhhhh", "tungggg, tunggggg". hahaha, ok these are really useless details, but i thought you might like to know animalspeak.
on the topic of animals, burmese from the shan tribe are animal-lovers. so much so that most are vegetarians cos they don't have the heart to kill living things.
anyway, the trek after lunch was more challenging. i was too exhausted to snap shots - of two neverending zigzag slopes, of boulders on the streams, of the split mountain - which challenged me physically. without Han and L, i was now in the company of the two fit people - the "Group A". J said "no worries, nila. we'll walk slowlyyyyy. you lead the way."
in burma, levels of ability are classified into Group A, Group B or Group C. A being excellent, B good, C average and below. schools, hotels etc follow this system.
i hate it each time we had to walk downslope because i knew "what goes down must come up". but burmese terrain is never flat. so, too bad for me.
"where's the monastery, Jimmy?" i asked him at around 5pm, after 9hours of trekking.
"not far, 10 more minutes," was his amused reply.
i couldn't see any outline of a monastery. and i was really, really exhausted by then. the last 100metre lap was such an arduous task for me. the task was beyond physical. it was a test of the strength of mind and spirit. i didn't know what came over me but the last hour, i kept thinking about sinking my teeth into a ripe piece of BANANA, not any banana but the succulent one i had the day earlier at the longhouse. it was the sweetest banana i had ever tasted.
i echoed every step i took with faint muttering of "banana", "banana", "banana". if i could have that banana, i was sure i could continue walking for a few more hours. but alas, the banana was nowhere in sight. i pacified myself, vowing to stuff myself silly with bananas once i reached inle lake.
when we finally got there, i saw those last steps... and i just fell to my knees. "i survived, yay!" the two went up before me: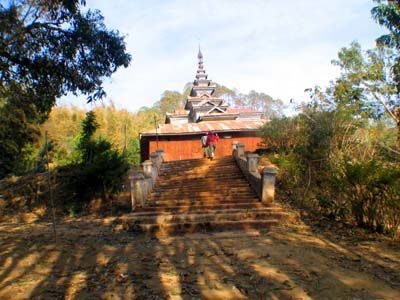 while i rested under shade of the cool bamboo trees, feeling utterly spent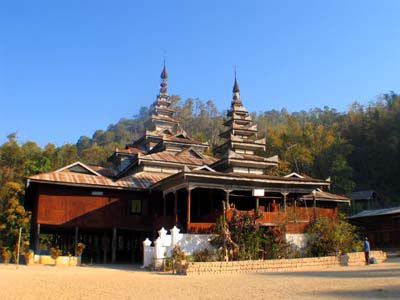 the monastery

the abbot

the learning school for young monks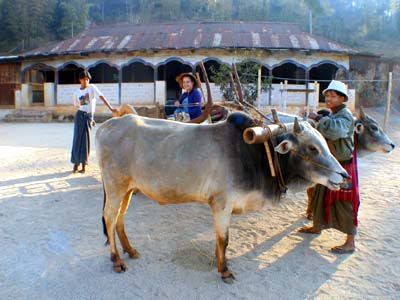 L arrived shortly after on her noisy oxen cart HAHA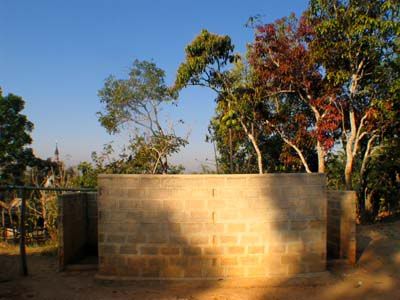 time for a shower in the openair bathrooms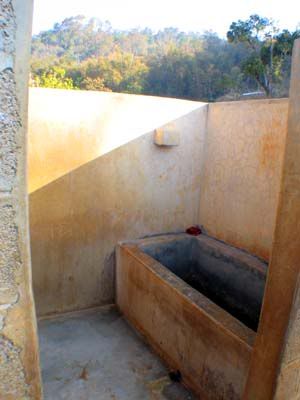 we drew water from the well and poured it into the concrete built-in container and showered. i was worried about passing young monks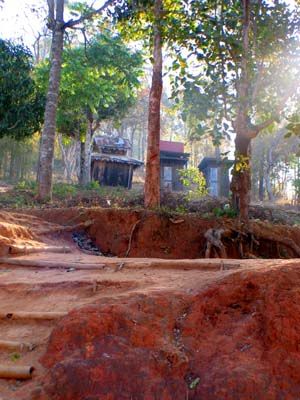 the toilets are up on the hill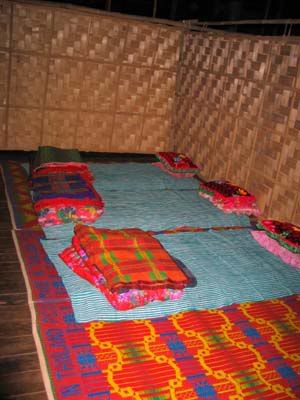 the abbot prepared our beddings for us. this is located in a little makeshift room in the praying hall of the monastery, where a large Buddha statue sat majestically.
the two girls slept first, while i chatted with Han till the lights went out.
i was surprised when he said he had noticed me walking around on the first day in kalaw and thought i was a local. he said "you know what, i think you are very clever, active, and with mannerisms of a child. you're talkative in a good way and i really enjoy talking to you very much."
he said that locals thought i must be younger than 20 years old, which he too thought so initially.
"but after talking to you, i realise, yes, you're an adult".
he kept dishing out compliment after compliment. and i felt slightly embarrassed. anyway, we spoke about other things as well - career, hopes, dreams, among others. he wanted to study Spanish and move to Yangon. trekking was not going to be a long-term career for him.
"why wouldn't you become a monk?" i queried.
"i don't have to answer that question" he said.
"why not? the answer is easy. you don't think you're spiritually strong, and that it is a demanding task. or you feel it's too personal... i just want to know why some burmese buddhists want to be monks and why some don't," i asked.
"you and your tough questions," he said in mock exasperation. "i've donned the yellow robe before. for a short while. i am ill you know. and that's the reason why i can't be a monk," he said, explaining that he used to smoke like a chimney before and the doctor had told him to stop because his lungs were all rotten.
"i've stopped smoking the past 10 years now," said the 33-year-old. "but the after effects... every morning, i wake up feeling dizzy."
we wanted to talk somemore, but the abbot wanted to go to bed. which was a pity, because i enjoyed chatting with Han, too. we could really discuss anything under the sun as long as "it's not religious or political". he said those two were his weakest subjects.
that night, i couldn't sleep well, too. in fact, it was worse than the day before. one, the clock chimes were too loud and it would go "Dong! Dong! Dong!" to indicate every hour that passed. Han's snoring was louder than the previous day. and of course, the low temperature was no good for a tropical person like me.
i was awakened the next morning at 6am by chants of young monks. they would wake up at around 5.30am, wash up and by 6am, everyone would be squatting in front of the altar and chant prayers. they would then go out on the streets to receive alms from the charitable pious Buddhists. people would place food in their black lacquerbowls. they would gather at around 10am and have their meal. monks only eat once a day. they fast after 12pm.
trekking day 3
i felt very fit on the third day. after two days of upslopes and downslopes, the third day was just going down the hills heading towards the lake. and from there, it's an hour boat ride, crossing the lake to the town of nyaung shwe, where our guesthouse is.
i was in high spirits. injured L still had to take the oxen cart with Han, while Jimmy, J and me walked. i sang all those tacky happy songs at the top of my voice like carpenter's Top of the World. J joined me later. she only knew French songs, she said. we sang the few 80s english songs she knew like If Love Is Blind and Sometimes When We Touch.
she was going "Oh my godddddddddd, this is such an old song it's so hilarious. reminded me of those times when i was like 14, you know... first boy, first kiss.. HA HA HA!" she said.
"i know what you mean, you think you found the perfect love and vowed to stay together forever till the end of time!" i said.
it was a nice walk, reminiscing old days.
we asked Jimmy to sing a Burmese song, but he was too shy. Jimmy was such a sweetie, helping us to carry our water bottles even though we didn't have our knapsack on us. we stopped a couple of times, lying under the banyan tree and just letting our minds wander far and away.
later Han and L joined us. Han was feeling bored sitting on the oxen cart for two whole days. as L and J trailed behind, Han caught up with me. from his expression, i knew he wanted to talk in private. he said "these are precious moments" and i said "for the burmese?" and he said "no, precious moments for you and i because time is too short because we'll be parting soon. i don't know when we will meet again. please do not forget me, because i will always remember you", and while he held my hand, he squeezed it and said "you know, i have enjoyed going on this trek because of you. please write to me, i will be waiting for your letter, and looking forward to it. when you're still here, call me."
"nila..." he continued "last night, i couldn't sleep. i wanted so much to continue our chat. i wanted to talk to you the whole night if i could. but the abbot asked for the lights to be switched off. do you feel the same way?" he said.
"hmm, i was too cold to feel anything. it's a chilly night," i said.
"why didn't you tell me? i could get more blankets for you. at the guesthouse later when we part, please do not say goodbye. i don't want to hear that, you hear me?" he said.
he said he didn't know whether he should stay for the night at nyaungshwe or go back to kalaw. i invited him for dinner with me, which he agreed without a moment's hesitation. "ah that's great. i'd go to my aunt's place, take a shower, and meet you at the guesthouse," he replied cheerfully. but five minutes later, he changed his mind. "no nila... the government would question why i was with a foreigner even after the trek's over. they would check, it's going to be hard for me. they would not believe me if i tell them it's just a casual meeting."
"why are you so paranoid? i'm just giving you and Jimmy a thank-you dinner, that's all," i said.
"i trust you Nila... i trust you very much. it's not you, it's the government. you don't know... you're a foreigner. my fear is valid. you said you're meeting Par Par Lay in Mandalay. it's dangerous for me. they will check where you'd gone before, where you're going after," he went on.
"so much of a friend you are. i won't get you into trouble, Han. every tourist visits Par Par Lay, not just me. you'll be fine," i assured him.
"Oh Nila... don't be angry. please forgive me," he said. "please understand me. please don't stop talking to me. i don't want to lose this feeling. it's just..."
so there, for the first time in my life, i couldn't make a friend because the government is in the way.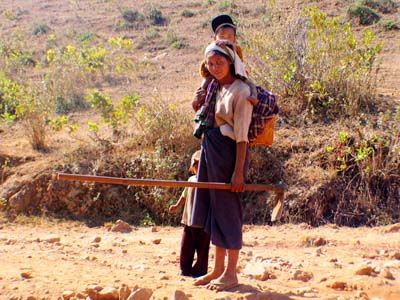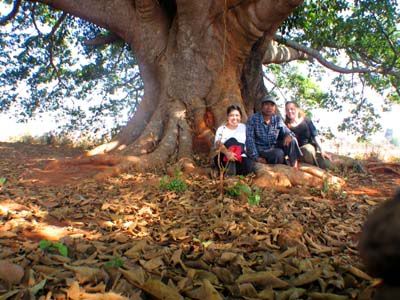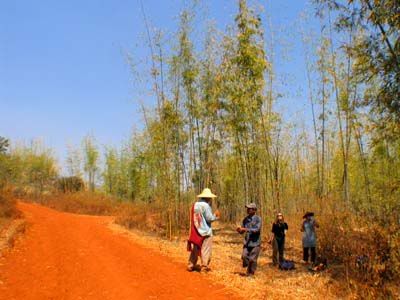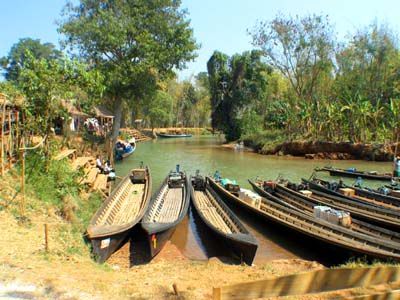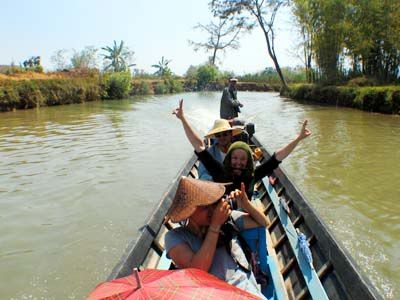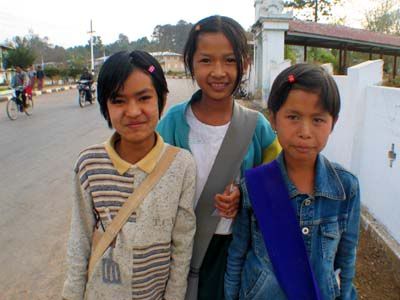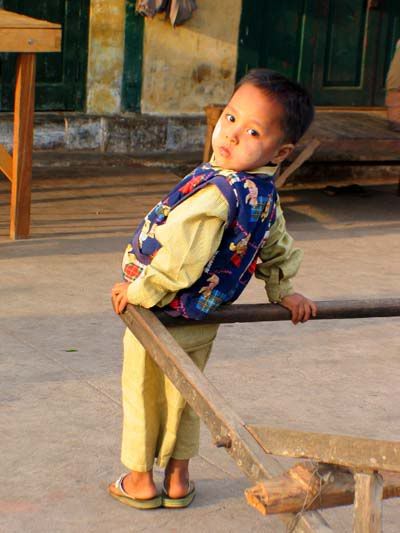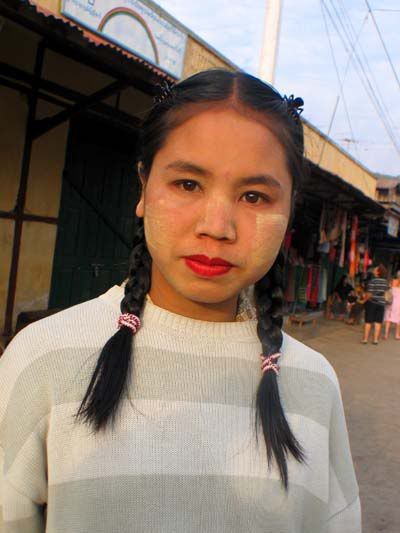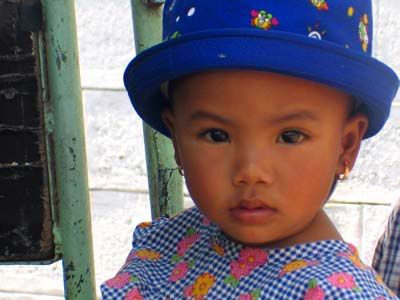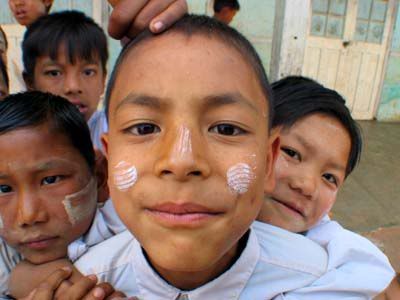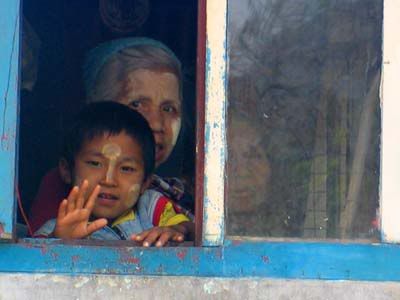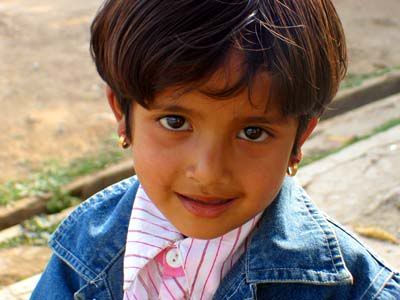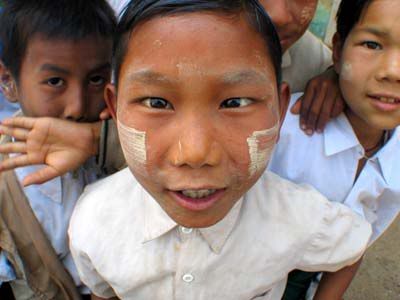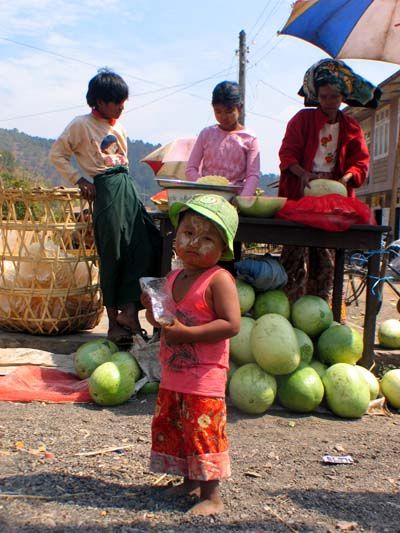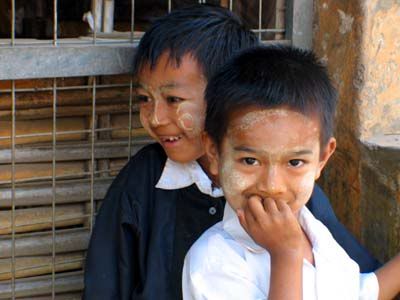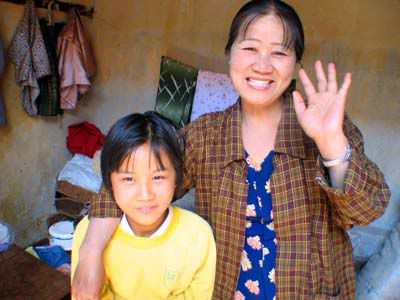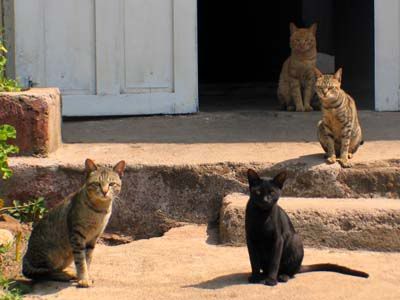 personal thoughts & impressions
kalaw was one of my favourite places on this trip. the human touch was extraordinary. i also learnt how money's apportioned to trek guides/cooks.
unlike in vietnam where agencies take a huge chunk of trek fees and give a small portion to trek guides, trek guides in burma get the full sum. say of a $10/day trek fee, just $1 goes to the cook, which the guide hires. cooks hope that travellers give them tips. if the trek guide's recommended by agency, the agency gets about $1.
this arrangement, although better than the vietnam's system, is still biased - favouring the trek guides. i think cooks should receive more. afterall, they also walked for three days, carrying heavy utensils and foodstuffs. jimmy, in this case, also acted like a trek guide for us. his only handicap - he spoke no english. but he knew his route very well, and he's also caring and focused. i made sure jimmy was tipped well at the end of the trek. he just did so much for so little.
Posted by jalanjalan 19:54 Archived in Myanmar