bagan
02.09.2006
note: bagan is the only spot in burma that i faced some annoyances.

i would appreciate that readers READ the whole travelogue and all the entries, before just singling out one post, and then without context and background of the author (that is, me) person and character, started making personal attacks.

just for your info, for this post (if you're too lazy to trawl through the rest). of course there are touts everywhere, and of course i know the economic crisis they are in. of course that would require me to be extra tolerant of touts. i have visited the country well aware of the problems they faced, and i have brought what i needed to give.

i am talking about particular spots, the annoyances at touristy spots that people should look out for, like bagan. i have met touts everywhere, some even end up as my good friends believe it or not, because i end up chatting and making friends with them. they were pushy, but they were not rude, unlike the ones i met in bagan, who were used to having tourists going there so it became like a normalcy for them to force people to buy, and be rude when they don't.

i will appreciate that before making comments in future, readers don't sound so high and mighty and pooh-pooh something without background and context. be polite and i will be polite to you as well. if not i will just delete your comments. thanks much.
Bagan is one of the most amazing sights in SE Asia. In an area of 40 km2, there are over 2,000 stupas and pagodas built during the Bagan Dynasty founded by King Anawratha in 1044 AD. Bagan is one of the ancient capitals of Myanmar. The main pagodas are: Ananda Pagoda, Damayangyi Pagoda, Hti-lo-min Pagoda, Shwegugyi Pagoda, and Shwesandaw Pagoda.
however, let's just say like my cambodia's angkor wat trip, this particular trip to bagan was somewhat of a letdown, just as i had imagined. perhaps, it's too touristy. and there are too many sly touts/peddlers harrassing you to buy their wares.
when i was at shwesandaw, a woman came forward and clipped a butterfly pin on my tee. she told me to put my sandals near where she sat. i had thought she was a temple staff. only later i realised, she's selling things and making me wear her pin meant that "i was hers". and that she'd done me a favour looking after my sandals. and taking off the pin would take time, and she could use it to her advantage and harrassed me further.
when i was at ananda, a girl kept following me about, trailing 3m behind me. like my shadow. i was so irritated i asked her "what are you trying to do and following me?" and then she said she wanted me to see her items after my walk. when i said no, she said "not now, later ok? later ok?" and wouldn't take no as an answer. i didn't answer. as i walked into the pagoda, a man followed me, telling me which angles to shoot. what a pest. he walked in front of me, expecting me to follow his steps. i walked the other way. then he reappeared with rubies "you want to buy stones?" he asked. when i went out, the same woman bugged me again.
after so many unheeded "i don't wants", i ran out of patience. i was feeling ill and trying to appreciate the ruins, and these people had to pester me non-stop. in a loud stern voice, i yelled "Maw Weh Chienh Bu!" meaning "I DON'T WANT". i hate having to lose my temper. i hate having to scold people. but these touts were too much.
the woman parroted after me "Maw Weh Chienh Bu!", as if to mock me. so annoying.
if you had read earlier sections, you could tell i love the burmese' friendliness - only when it's genuine. but in bagan, everyone wanted to make small talk not because they're interested in me, but so that they could get me to buy something from them. from painters, to jewellers, to hawkers. because of them, i had lost so many photo opportunities. they planted themselves at strategic places where the views are good. i'd rather lose a shot than being pounced on unexpectedly, lied to, or harrassed. that's why i preferred the more remote hsipaw or kalaw.
everyone says bagan is wonderful, i agree yes. the pagodas are exquisite but the people really annoy me. the first morning at the guesthouse, the woman serving breakfast ignored me completely. i was walking in front of a western woman, and she said "Allo!" so i responded. and i realise she wasn't greeting me, she was greeting the western lady instead. she went on to ask the lady how her day went, and asked what she would like to drink. i waited for her to ask me, but she ignored me. she didn't even look my way. another western woman came in, and she greeted her the same way. after she gave them their toasts, only then she acknowledged my existence. she spoke to me in burmese. i spoke english. then her face changed. only then she realised i was a guest and a foreigner, too. but she didn't treat me any better.
perhaps she thought i looked poor. anyway, i know i am very shabby-looking, and ill too. and even if i was a local, that didn't mean i should be treated any differently. she gave me two pieces of bread, the other people got four. HMPH. not that i could finish four pieces, but still. everyone else at the guesthouse was good to me, except her.
in the afternoon, i came back and asked for hot water. she was watching TV and she got her assistant to give me the mug. HMPH. what a snobbish woman. this kind of people don't deserve to have a good life. not that i'm cursing her, but well, i really dislike people who treat people nice only because they think they can profit from the relationship. full of crap.
then, i went on to my horsecart, and unlike the woman, the driver was overfriendly. now, thinking back, i think i had been taken advantage of. angry. you see, i was coughing and sneezing the whole way because of the dust, and the ancient pagodas didn't help. it was musty but i still climbed one all the way to the top. to get on top, one would have to walk through a narrow spiral staircase within the pagoda itself. you would need a torch because the stairwell is very dark, and the bricks are crumbling. anyhow, he went up with me. i have height phobia. so i was feeling a little frightened about looking down. if i needed any help, it's handholding and that's enough. the furthest all the burmese men i interacted with went was to hold my hand or my arm, that's it. this one grabbed me around the shoulders with one hand , held my hand with the other - hugging, yes. and when i was going up in the dark, he touched my buttocks, my back, my waist. HMPH. i was pushing him away, but he made it look like it's normal, that he was just being caring. so i was feeling a little confused, plus my splitting headache didn't help. then, on the cart itself, we chatted.
then came the TYPICAL want-to-molest query: "are you married?" and "if you want a massage?" and i said no. then he asked for my age. i said 27. and he said "me too!" then later he went on talking about how everyone needed a burmese massage. and I KNEW IT, he wanted to demonstrate the steps on me. at this point, we were at some very secluded place at noon. i just said "yes, burmese massage on THE TOES is very good". and he said "no, here is better!" before i could react, he started to press on my thighs and back. i pushed his hand away. i think he got the idea. because i was sitting right at the edge of the cart, almost falling off. and he asked me to put my things near him. i didn't want to. and because there's space, he asked me to lie down beside him instead of sitting down. he said: "not good for your back, you can relax". i said no. and then he started pulling weeds of my pants near the knees. ARGH! stop touching me, bloody pervert.
it didn't help that he was chewing betel (yucks), and has red stained teeth. and i think he's also very lazy. he kept saying that my fees were a discount. like he wanted to make me feel guilty. and there was one point near some deserted place, he said he wanted his horse to rest. so i got down, and walked around. he joined me shortly after. i was walking away so fast from him that i went straight into a cactus tree! it's quite amusing if you're there to witness. the tree was quite huge and the sturdy thorns pricked my forehead. i went "Owww!" and the unwelcome hero came to my rescue and started rubbing my forehead. URGH!

the offending cactus
anyway, 3 hours later, i decided enough was enough. my cough was killing me. i asked to be sent back to the guesthouse. the horse was going clippety clop clippety clop, so slow. then he asked if i would invite him for lunch. the cheek! i asked to get down 100m away from the guesthouse, and gave him the fee and extra 1 dollar for him to have lunch elsewhere (not with me of course). he said he would pick me up at 6pm to see sunset, and the next day for sunrise. i thought it's unwise to go with him. after sunset, it's going to be dark. what could happen. so, i planned my escape and hid in a teahouse. i sat very far in, in the dark, with my back facing the road.
it was way past sunset and i thought i was safe. while sipping my strawberry juice, he suddenly appeared in front of me and said "ALLO!" i almost choked on my juice. "eh hi" and he said "where did you go? i wait for you long time. i ask the manager to find you" and i quickly replied "ah, not feeling well. feel very sick. so i walked slowly around. sorry. it's ok, i don't want to see sunset and tomorrow don't want also. i am very sick" and he said "ah ok, i can see you are sick" and then he stood there. in my heart, i went "SHOOOOOOO!" this translated to polite signlanguage speak was a nod and a polite wave "thank you... tata... babaiiii"... i think he got the idea that i wasn't going to invite him for a drink.
the next day, i got on a trishaw and the driver, nyunt, turned out to be a sweetie. he was so hardworking. have i told you how charitable burmese are - even the most impoverished ones? nyunt wanted me take me to see the sunset for free! "no need to pay, present from me," he said. i looked at the scrawny figure in front of me. nyunt was wearing an old, tattered shirt. at 24, he's his family's sole breadwinner, supporting his young brother and widowed mother. his earnings aren't much and yet, he still wanted to give "presents". i think he felt "indebted" because i had bought for him a bottle of mineral water and i volunteered to walk when the ground got too thick with dry sand, making cycling almost impossible.
i was told later that many tourists refused to walk or never offered to buy water for the trishaw riders. i was sad to hear this. water's just 20cents, and walking is faster than forcing the rider to expend so much energy pedalling. how inhuman some tourists could be! shame on them.
i didn't accept his offer though, because i was heading to yangon that afternoon. and i had fallen ill. so, no sunrise and sunset pictures in bagan.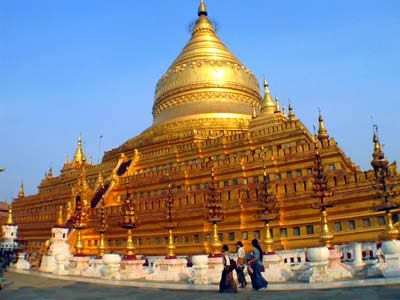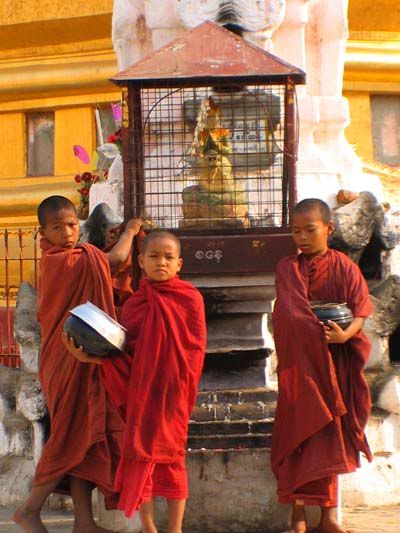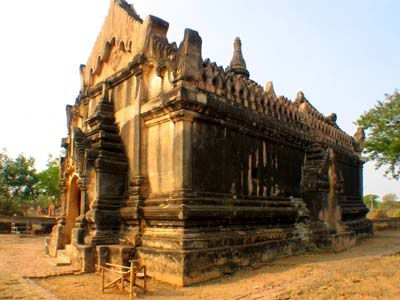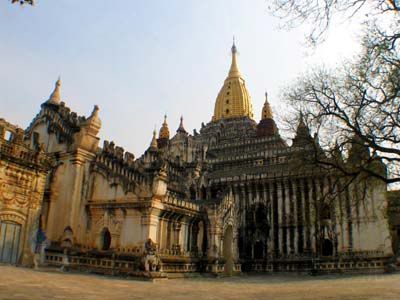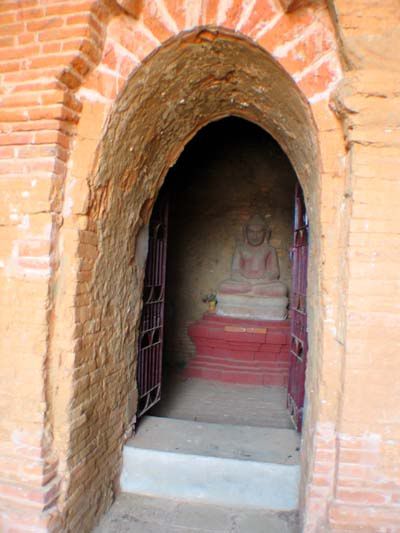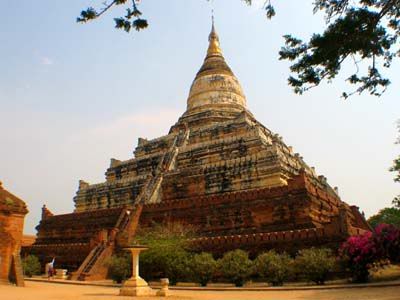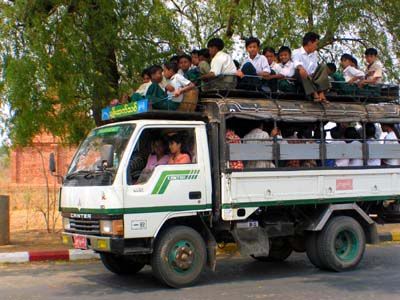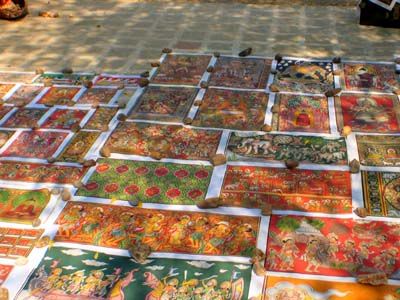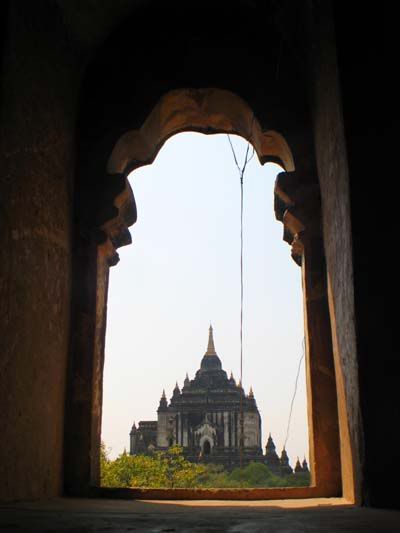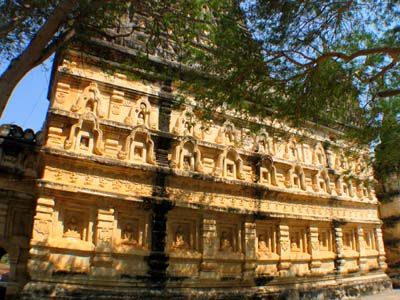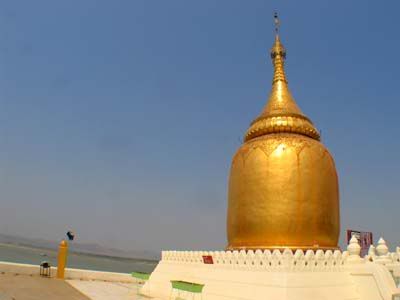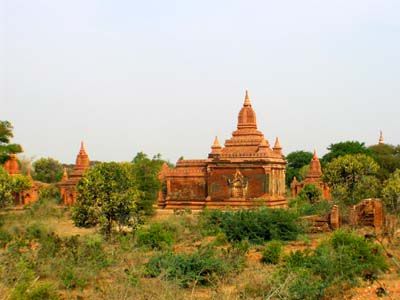 Posted by jalanjalan 20:07 Archived in Myanmar