preparation
02.09.2006
mingalabar, or hello in burmese. i just got back from the golden land and would like to share my experience with travellers of the world. as we all know, burma has been under military rule since 1998 and opposition and dissent of the government is suppressed. locals who openly oppose the government will be punished harshly (like fined, jailed, forced to do hard labour) - all these i have learnt from direct interaction with locals on my recent three-week solo trip. they all have encouraged me to tell the world their tale - anonymously. thus anonymous site "Burma Undercover" - personal tales with photos - is born.for your info, all the names used in this site are fake.i hope this site will be useful for you. one of my sources gave me a Burmese name - Nila. suffice to say that i am an asian lady, aged 27. you can email me if you need to discuss anything. i have some contacts of good guides. i'd better place a disclaimer here. content in this site (except for factual info - usually the first one to two paragraphs of every section - which are lifted from elsewhere, everything else - pictures and writings - are mine and the text is based on my observations and interactions with the many locals and travellers.obviously, we don't share the same experiences and opinions. but if you find gross flaws (facts especially) in the content, i would appreciate very much if you could point that out to me. afterall, i'm here to share what i know but what i know is limited. information sharing is the cure for ignorance. so, if you have thoughts, input or constructive feedback, you're welcome to drop me an email. be polite! :D to navigate, see links on right. enjoy the picture-story. :D cezubeh.
my trip in summary

just one word: UNFORGETTABLE. :Di thought i would never be able to step into this country, especially after facing the initial visa problems. that ironed out, i was glad to have made burma a destination point. it's not so much the sights and sceneries - which are very "basic". i'm sure the alps boast better-looking mountains and south africa, better-looking animals. but what makes burma a unique destination is its people, and of course, the Buddhist religion and the military government which influence their way of life. you might want to read The Burman by Shway Yoe to understand the psyche of the Burmese citizen.i went to Burma not to see its well-known pagodas and stupas. i wanted to talk to people there. upon reflection, i realise i had skipped so many attractions. i only went to shwedagon in yangon. and mingun and u bein in mandalay, and less than 10 of the 2,000 pagodas in Bagan. but i didn't feel that i had missed out on anything. after all, there is only so much ruins, caves, waterfalls i can take. and a burmese waterfall couldn't compare with the great niagara, so no loss there.it's the people that make Burma special. i was glad to have chosen to visit those towns i did. honestly speaking, if you talk about "attractions", you could complete going around kalaw and hsipaw - my two most favourite places - in half a day. and if you're pitching your excitement level on the attractiveness of the locations, you're going to be sorely disappointed. i mean, what is so interesting about visiting a cheroot or bag-weaving factory. yawn, they're a complete bore. and not to mention, highly touristy.what's exciting, really, is going into a teashop and bumping into a local who would chat with you for hours and later take you home to visit his family. what's interesting is going into a school and playing catch with the little kids. what's unforgettable is putting on a longyi, just like the locals do, smearing thanaka paste on your cheeks, carrying a shan bag over your shoulder and then sitting with them at the markets and offering to babysit their little boys and girls. go trekking, have dinner with the local families, sleep in monasteries... those were the things i did which i so enjoyed.every town offered a unique adventure for me. but the greatest adventure for me was in mandalay, when i used all the heavily-guarded "back gates forbidden to foreigners" to enter the places of interest, just to avoid paying entrance fees. don't play with fire, they said. but played with fire i did as i sneaked past soldiers armed with rifles.i miss my newfound friends in Burma. and i know i will definitely visit this place again, just so i could soothe the ache in my heart.
media in burma
according to Reporters Without Borders, which published the first worldwide press freedom index in October 2002, the five countries with least press freedom are North Korea, China, Burma, Turkmenistan and Bhutan.i had difficulty finding newspapers there. it seems that nobody bothered reading the papers - er, i wouldn't be bothered too if i was burmese. but i really wanted to know how contrived the content was. i managed to find them at a guesthouse and a local tidbit shop - The Myanmar Times, a government-affiliated weekly newspaper and The New Light of Myanmar, a local daily which is propaganda machine for the government.flipping through the pages of the thin, rough paper of New Light (it's rougher and thinner than the worst-quality toilet paper), i was aghast to read the page one articles, which were just announcements. typically every paragraph begins with description of an event (example a golf game taking place somewhere). the second paragraph describes the burmese dignitaries there. and that's it. no quotes from anybody, no colour writing, it's even more drab than the most boring government press releases.The Myanmar Times is better, in paper quality, colours and content, but government worship remains a distinctive feature. the copy that i had had an interesting article on democracy. i've scanned here for your reading pleasure.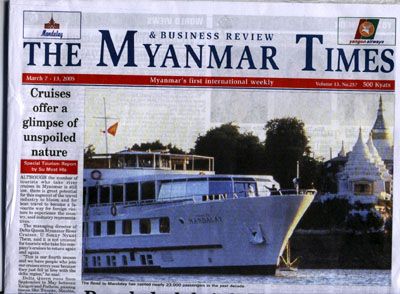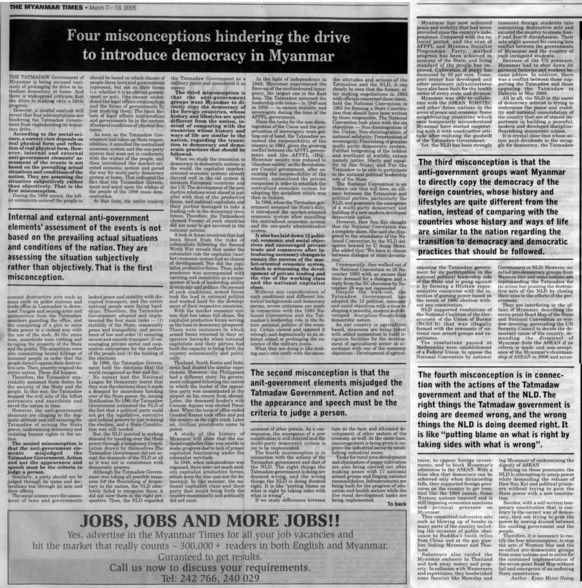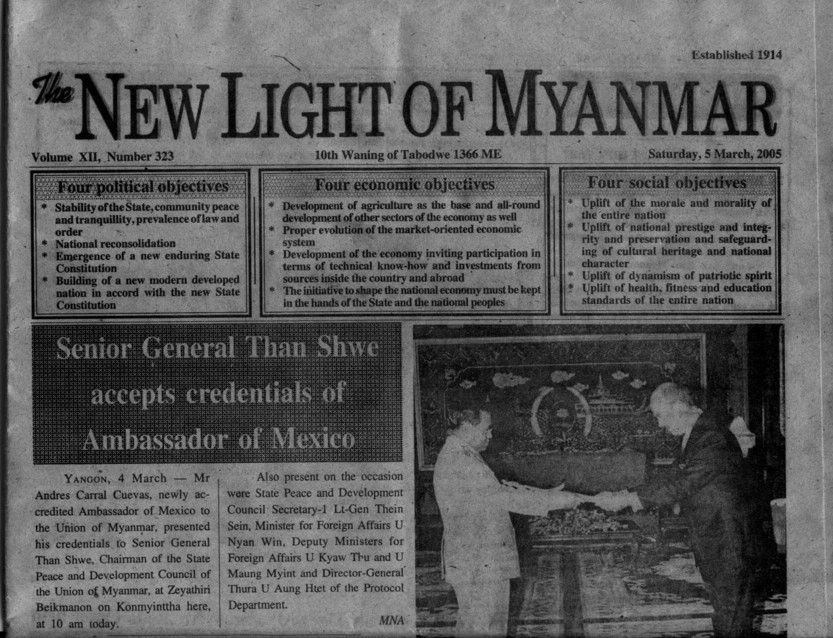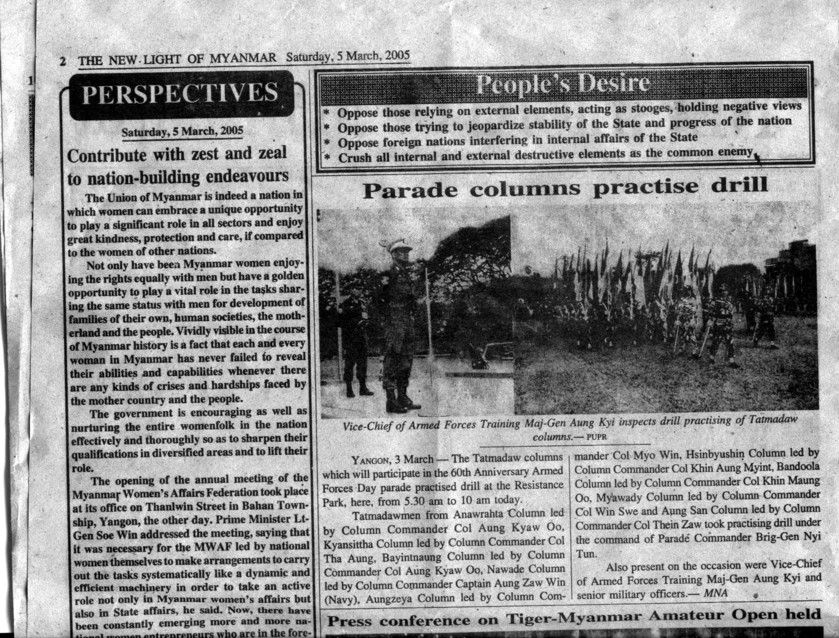 three-week trip: some FAQs
how long to stay?
with a visa, you can only stay in burma for a maximum of 4 weeks. three weeks is good. if i had more time, i would stay longer in kalaw (nice cool weather) and hsipaw (more laidback) and mandalay (i didn't spend enough time with the moustache brothers and ko shwe, the motorbike man). bagan is too touristy.
how much cash to bring?
for lodging, food, transportation, massage, i spent US$350 in three weeks (sans shopping). yes, it's achievable, if you're on a tight budget and not inclined to shop. BUT i did shop. haha. so, i spent another US$150 on oil paintings, shan shoulder bags, lacquerware, souvenir tees, longyi sarongs, and jade bangles. so, i spent a modest US$500 in total. but, let me put a footnote here: i look burmese. so, i did not pay entry fee to visit the palace and see all the pagodas in mandalay, nor did i pay entry fee to the caves in pyin u lwin. i simply jumped on a motorbike and pretended i was a local and no military official stopped me from entering. and locals spoke to me in burmese. i only paid the entrance fee into bagan and the only reason i had to do that was because i was with western tourists on the boat and spotted with my huge travel backpack. so, if you are blonde with blue eyes, please carry more cash. :D
what's the weather like?
late feb-early march, it's hot, dry and dusty in mandalay, bagan and yangon. think 37 - 40plus degree range. i fell sick in mandalay because of the heat. also, burmese chew betel nut and spit all over the place so, the air's not very clean. kalaw is freezing early mornings. hsipaw, kalaw and pyin u lwin are cool in the mornings and evenings (but still hot at noon). there's no rain so don't have to bring a poncho.
gifts to locals
burmese are charitable people and they love to give, even the poorest. it's good to bring little somethings for them. thoughtful gifts include earplugs for the speedboatmen, stationery for teachers and kids, cosmetics for the women and tees for the men. many self-medicate so, medicines are welcome. ointments for insect bites, iodine for falls, cold/flu tablets, paracetemol, bandage... all these are useful.
internet/phone/fax/email/post
forget phone and fax. it's expensive. the going rate is US$10 a minute and they will try to connect to china before connecting to elsewhere. it's unreliable. for email, take note that online.ie, hotmail, yahoomail, gmail are all banned. the one which works is
lissamail.com
i found a way of beating the system. first, log on to these sites: www.pureprivacy.com or www.anonymization.net and key in www.mail.yahoo.com or www.mail.online.ie ... heh heh, the anonymous surfsites would take you to the banned sites. i only learnt this from some mandalay local hackers at the later part of the trip *frets*try to post everything from yangon. 75% of post sent from bagan to elsewhere in the world doesn't get to the places intended. also, if you're planning to keep in touch with locals there, be aware that letters are checked at random. a local told me that when he was working overseas, his letters to his wife never reached her. so there, the sad fact.
what to pack?
things that i brought along and which were useful to me there: torchlight, candle, lighter, sturdy sports sandals (you can trek with sandals on, no problem), jacket (for cold places), travel detergent, rash powder, plaster. things that i should have brought along but i didn't (and punished for not): lip balm (my chapped lips bled and swelled), moisturiser, light long-sleeved top (for trekking. now i have blistered arms with peeling skin), cough syrup, compeed.
will you fall ill?
the answer is probably yes during the hot and dry season. i didn't get any jabs, but i already had thyphoid and fever jab early this year. and yet, i still fell sick near the end of the trip. taking the boat from mandalay to bagan, i saw so many sick tourists. sniffles, sneezes etc. i was ok at cooler places like hsipaw, kalaw, pyin u lwin, inle. but mandalay, with its dusty roads and hot weather, battered me. i developed the most horrendous TB-like cough (still having one now) and runny nose. i did carry paracatemol and antibiotics but they weren't enough. i should have brought cough syrup along, too. and of course a mosquito net. i had sleepless nights because the mosquitoes kept biting. if they didn't, they would hover around the ears making annoying buzzing sounds. they really tested my patience. it's strongly advised to carry a medicine kit. anyway, you could always give them away to locals since many self-medicate.
burmese massage - good?
unfortunately, no. i indulge in traditional asian massage sessions at least once/twice a month. of the many asian massages i've tried, i rate thai and indonesian ones highly. thai and indonesian massages require special skills and step-by-step techniques. in burma, i went for four massages (about 2,000Kyats per hour) at four different places and none was satisfactory. pummels were so light i felt nothing. when asked to press harder, it's a lot of pinching at the wrong spots which bruised my skin. i have a high treshold of pain and indonesian urut strokes along the muscles could be very painful but at the end of the session, the body felt relaxed and pleasured. but it's not the case for burmese massage. for massage virgins or westerners who want to try asian massages, i recommend thai or indonesian ones. go get one in bangkok or java.
planning your route & getting around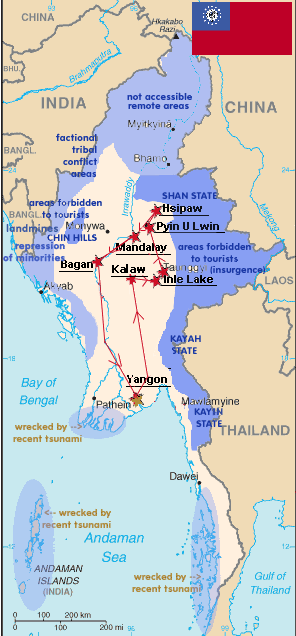 I travelled by road, rail and boat. Flights are too expensive, some over US$100, which is way beyond my budget. Take note that rail and boat services are government-run, which may not be a good thing.If you're planning to trek (which I highly recommend), do the trip in the anticlockwise direction, like i did. Three-day treks from Kalaw to Inle is below US$10/day, but from Inle to Kalaw, it's three times the price. You're basically doing the same 40km route. It's also easier to get from Yangon to Kalaw than anywhere else (as you will need to spend more time connecting buses etc etc
My route:
Yangon (noon) -------- overnight bus (16 to 18 hrs) ------> Kalaw (4am)
Kalaw ------ three-day trek --------------> Inle Lake
Inle Lake (Nyaung Shwe) (6pm) ------> 45mins to Shwen Yaung by cab ----> transfer to overnight bus (10hrs) --------> Mandalay (3.30am) --------> transfer to shared cab (5hrs) -------> Hsipaw (10am)
Hsipaw (9am) -------------- train (8hrs) -------------> Pyin U Lwin (4pm)
Pyin U Lwin (3pm) ---------- shared cab (2hrs) -------> Mandalay (5pm)
Mandalay (6am) ---------- boat (10hrs) -----------> Bagan (5pm)
Bagan (3pm) ---------- overnight bus (13hours) -------> Yangon (4am)
Buses
Roads in Burma are underdeveloped but still better than roads in Laos (near Loang Namtha area in the north near the Chinese border). then again, these are well-trekked routes. The agents try to pack as many people on the overnight buses as possible. Don't be too hopeful about the aircon on "aircon buses". Buses also play loud, tacky dance videos (think Michael Jackson & Madonna's Papa Don't Preach dance moves yonks ago) and awful Burmese-dubbed English pop songs (like Mr Big, George Michael) blared till late at night. Good luck to you if you end up sitting beside a man who is an ardent betel chewer (like me). You worry whenever he makes the spitting sound and you worry about the plastic bag containing his red foamy sputum which he loosely hangs from the seat handle. Earplugs and inflatable shoulderpillows are useful in such situations or simply grin and bear it.
Buses stop for toilet breaks twice or thrice. Squat toilets at the foodstalls are usually clean. A bucket of water and scoop are available so you can wash yourself after you're done. In the guesthouses, a waterhose is usually attached near the bowl. the only time i didn't heed the call of nature was the the trip from Bagan to Yangon. on that particular trip, somehow every passenger had the urge to shit. since i was the last one to get down the bus, i didn't know what would be waiting for me in the loo. so, i suppressed the whole 13-hour journey. Journeys are long and sometimes buses break down. The most horrible ride is between Inle Lake and Mandalay, where you will find yourself jerking forward for hours and slipping off the seat. But buses are a cheap way of getting around - between 5,000Kyats and 7,000 Kyats (US$5-US$7) from one town to another.
Shared taxi
Faster than the bus, but slightly more expensive. it's about 10,000Kyats from Mandalay to Hsipaw but i bargained to 8,000Kyats. expect to pay 1,000Kyat more to sit in front. But the back is fine as well, if you don't mind squeezing with three other people, usually Burmese men. they're small-sized so there's no cause for worry. if you're the only girl, the last burmese man will be gallant enough to move to the boot and sit together with the baggage. such sweet people they are. taxi drivers drive very fast and in a zigzaggy manner. expect some bumps on the head.
Train
The only train ride I had taken was from Hsipaw to Pyin U Lwin (first class costs US$4). i was glad to have done so. although it's a slow and rickety ride, it's scenic. with fields and buffaloes and wooden huts, and of course a fine view of the Gokteik Viaduct, that famous plunging gorge.
Boat
The only boat ride I had taken was from Mandalay to Bagan. slow, and nothing to hoot about really. you could skip the boat ride, it's expensive, too - US$16. but at least you could sleep on the boat ride since it's not as rough as the road journey.
where i stayed & reviews
i have decided to remove this list from this site. i could be tracked, silly me! in burma, you have to fill in your personal details every time you check into a guesthouse/hotel. so, you could email me if you want the list of accommodation places.
Posted by jalanjalan 09:06 Archived in Myanmar